Print this chapter
Staff Help
Tidying up a course in v2.4
Sections: Name, Create & Move
The basic unit of Moodle is the Moodle section. This covers Changing the number of sections, Moving sections and Naming section.
Changing the number of sections
Two options:
Click Course administration link > Edit settings.  Then change the number of sections (where it says number of weeks/topics)

At the bottom of the Main course page there is a tiny PLUS (+) button

Move sections
Go to the Main course page.
Turn editing on > Click and drag the move icon.
This is a little bit of an art to do.  You will see a shadowy image moved.
Naming sections
Click the edit icon (spanner). You will see a form with several settings.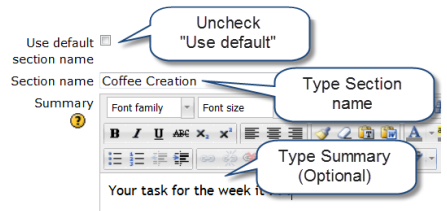 Click to uncheck the "Use default"
Type a section name.
Keep it short: it will appear in the course menu.
Type a Summary.
Keep this short.  It will appear in the Main course view page.
We suggest: a brief sentence, in italics.